Madonna Chords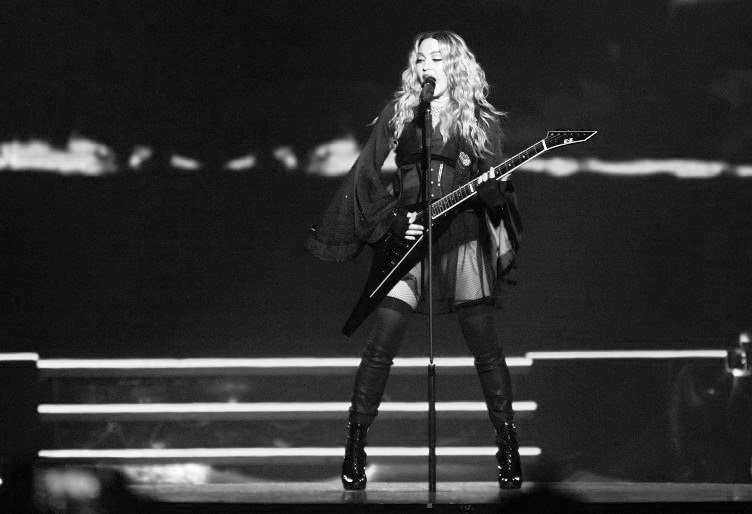 If you'd like to learn who the most successful performer in all the history is, we can tell you – it is Madonna. Her real name was Madonna Louise Ciccone, and she is a well-known American songwriter, dancer and singer. She also has written some books for children, produced musical compositions herself and even has been filmed.
Madonna is considered to be one of 20 most valuable women of the XX century. Today she is also called "the queen of pop-music". She was one of the artists who were successful from the very beginning of their musical career – her debuted single called "Everybody" had positive critics' reviews. Almost all the oeuvre was met positively by the public. That's not surprising – they are so dynamic and energetic! But the lyrics of Madonna's songs were quite controversial, as they touched the questions of gender, sexuality, racism, authority and violence. To add to this, her concerts were really like some performance, because she carried of the outstanding dresses and special effects.
Madonna is among 25 women who donated in the development of pop-music much more than the others. Though in her childhood she was sure she would be a dancer. She took it seriously when in her 15, but later was noticed by professional producers who decided to turn her into "dancing Edith Piaf".At first, she agreed, but left the collective half a year later. That time she knew exactly, that she desired to perform punk-rock, but nobody wanted to sign a contract with her. After almost two years Madonna changed her decision and started to sing pop-music, and that was the start of success.
As for awards Madonna had, there were seven Grammys, two Golden Globe Awards and 20 MTV Video Music Awards. That's an unbelievable result! Today she's working on a new album, and who knows, how many awards it'll take? And while you are waiting for its release you may enjoy yourself trying to play Madonna's chords and sing her lyrics. You'll find everything needed on our website.
Madonna Official Site: www.madonna.com